What's Included In The Course?

4 x 30 Min - Technique Workouts
These easy to follow 30 minute technique sessions break down genuine boxing combinations. Each combo is built up step by step, making them simple to learn and master. The Techniques get more complex as the weeks go on allowing you to build your boxing skills.
The first tech workout is "THE BASICS" this then leads onto tech workout 2 "OFF THE JAB", followed by tech workout 3 "LONG RANGE" and lastly tech workout 4 "CLOSE UP" These are actual real life boxing techniques demonstrated by former World Champion Cornelius Carr. You'll be slipping, rolling and hooking in no time at all!

4 x 30 Min - Power & Speed Workouts
Power and speed are both crucial for boxing. These 4 different workouts contain dynamic exercises to build your boxing power and increase your speed. With a mix of body weight exercises, weighted punches and speed work on the bag these routines give you an all over body workout. Corney will take through your paces and you will be punching harder and faster in no time!

Corney's 12 Round Challenge - The best 12 combinations taken straight from the "Technique Workouts" and mixed to create this bag blasting marathon. Use all the skills you've learnt in the previous weeks to stay sharp, punch fast and hit hard…
NEED HELP? - Corney's got it covered. In the help video Corney will guide you through each technique, showing you the correct movement and demonstrating every technique on his punch bag.
PADWORK DEMO - In this video Corney runs through every Fight Yourself Fit workout combination on the focus pads in both Orthodox and Southpaw Stance.
12 MINUTE "No Equipment" WORKOUT - We are also including our most popular YouTube boxing workout. With over 630,000 views, this workout is fast becoming the most viewed "no equipment" boxing workout on the web. This quick workout is ideal for those busy days when you don't think you have time - no excuses now :-)


Quick Help Guide
A comprehensive e-Book (PDF) guiding you through the workout program: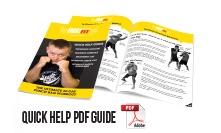 - Technique Analysis
- Workout Check List
- Training Schedule
- Equipment List
- Workout Safety Guidelines